Each year, the BPS Foundation is privileged to award scholarships to eight deserving students from Bellevue East and Bellevue West high schools. For the past two years, these scholarships totaled $20,000 – $2500 each. We were extremely proud to honor our 2021 Scholarship recipients during our virtual event on April 15. Event ticket holders and sponsors received early access to the recorded program, but now, we are thrilled to share our program with you! Watch the full presentation below or click on each student's name to learn more about them and watch their individual highlight video.
Bellevue East Bellevue West
Jessica Sunclades Mason Ingram
Chloe Brockhaus Baden Brumbaugh
A heartfelt congratulations to these spectacular seniors!
New this year, at our virtual breakfast event, the BPS Foundation also recognized our family memorial & tribute scholarship recipients, including the recipient of our newest family funded scholarship, the Frank Kumor Memorial Scholarship.
Congratulations, Adam Whitesides, the first-year honoree of the Frank Kumor Memorial Scholarship!
Not all recipients of our family memorial & tribute scholarships have been announced to date, but the BPS Foundation is proud of each of our honorees!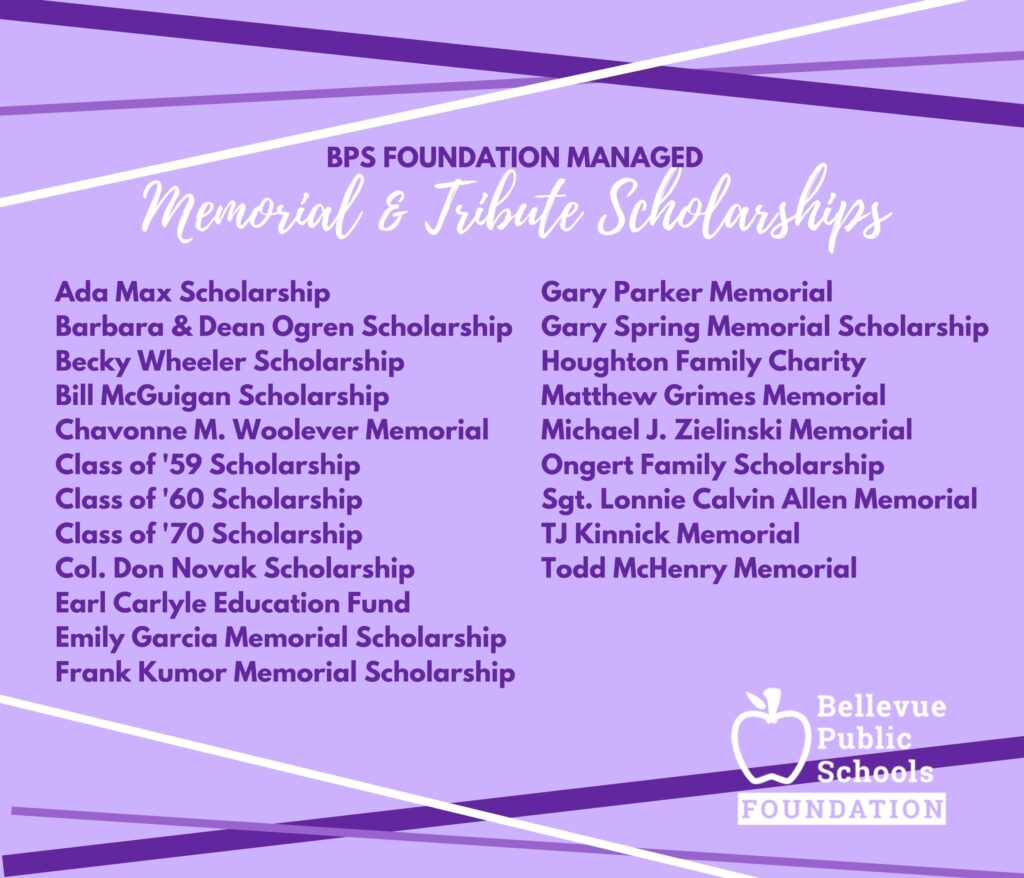 Thank you to our 2021 Scholarship Breakfast Sponsors
This event is only possible thanks to the support of corporate sponsors and individual donors who believe in our mission of positively impacting academic achievement and enriching the lives of students.
Valedictorian Sponsors Salutatorian Sponsors
Beardmore Subaru/Chevrolet. Lutheran Family Services of Nebraska
Great Western Bank
American National Bank
Head of Class Sponsors Graduate Sponsors
Midlands Community Foundation Kirk and Susan Hester
Radcliffe & Associates DC Electric
Herb Barelman Denny and Donna Gilbert
Jeff and Lisa Rippe Walt and Lana Griffiths
Cornhusker Auto Wash Zig Drywall Inc.
Bellevue Memorial Chapel Maureen McNamara
Honda Cars of Bellevue Hike Real Estate
Prime Communications Dr. Anna Fisher
Cobalt Credit Union
Marilyn Parker
Fenster Enterprises LLC
Doug and Tracy Schaefer
Amanda Oliver
Advanced Engineering Systems, Inc.
College Care Basket Underwriter
Hoogeveen Chiropractic Wellness Center
Senior Breakfast Underwriter
Bob Stutzman