Class of 1999 Bellevue East grad, Jennifer Peters, returned to her Bellevue Public Schools roots as the first Alumni Relations & Development Manager of Bellevue Public Schools Foundation in January of 2020 and has been on fire ever since.
Peters was first introduced to the BPS District as a student in eighth grade, after moving from Oklahoma. A decision that would unknowingly forecast her future career and impact her life triumphantly.
"In hindsight, I realize a lot more opportunities presented themselves here [in Bellevue] than I would have had in Oklahoma."
Opportunities Peters wasn't going to let pass her by. As the only freshman on the varsity tennis team, consistently the first or second clarinet chair in the school's band, and the assistant editor of the school's newspaper, Peters certainly knew how to make the most of her high school experience.
"It was all very meaningful to me… I just had a lot of fun in high school," Peters stated.
She cracks a smile as the memory of the school's bus breaking down on the way home from a band competition in Iowa comes to mind.
"Here is one bus full of students stranded in the middle of Iowa… No one has money. It was before cell phones were a thing. We stayed there all night."
The delay was only a minor inconvenience to high school-aged Peters relishing the chance to make memories with her best friends. Memories that would last a lifetime. "We were parked next to a big water tower that has a smiley face on it. Whenever I pass it on my way to Des Moines, I always think about that band trip."
Though Peters kept herself busy in many ways at Bellevue East, her time spent in the journalism department would prove to be the most influential.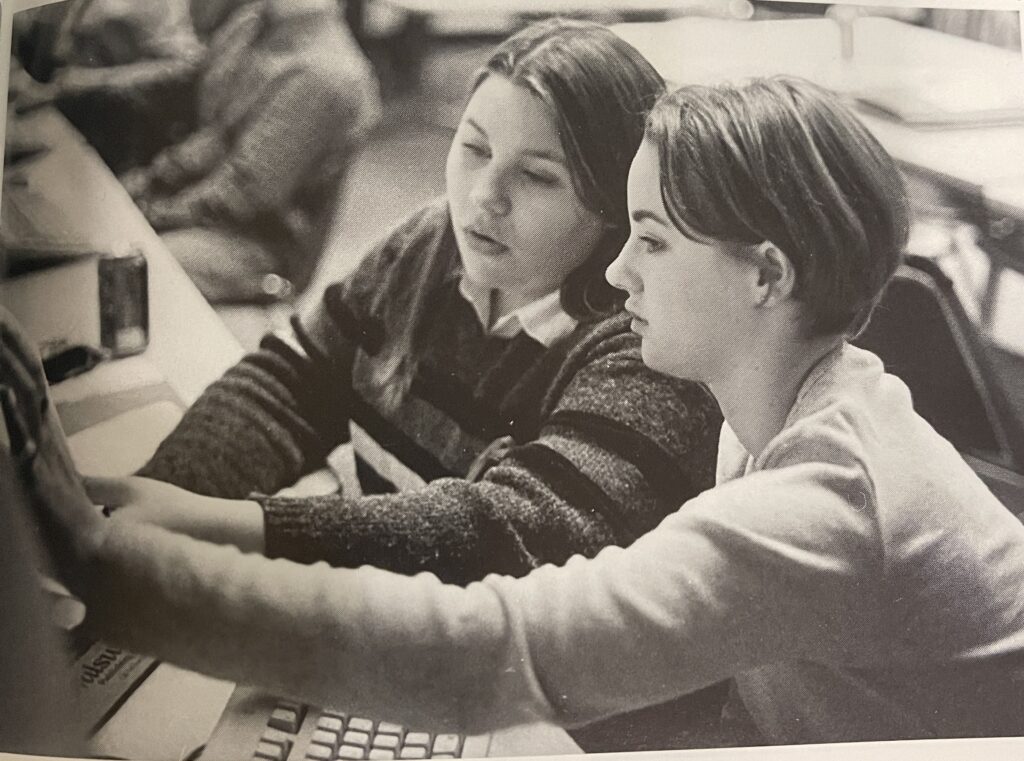 She describes when she was recruited to join the school's journalism program as "One of those life-changing moments".
From her sophomore year until graduation, Jennifer grew her love for writing, held various leadership roles, made friendships, and set the foundation for her future in the walls of the journalism department.
"It shaped everything I do…" she exclaimed.
Her career has revolved around the skills and experiences that she began to develop at East, and all these years later, her appreciation for the BPS District led her back to work in support of it.
As the Alumni Relations & Development Manager, Peters leads the BPS Alumni Association, a small group of alumni working to organize reunions and other alumni events. The Alumni Association provides resources and support to aid in reunion planning with the hope of adding new types of alumni events in the future.
In her role, she hopes to help everyone recognize the importance of staying connected to their classmates, celebrating their accomplishments and supporting public education.
"The Association and BPS Alumni network has come a long way in a short amount of time," Peters said as she thinks about those before her who have spent time developing the BPSF Alumni Association. "Now that the association has a dedicated position, I think the opportunities are endless."
Although Peters says working with the BPS Foundation is an immense honor and one of the best opportunities she's ever had in her life, her proudest accomplishment lays outside her 9-5.
In partnership with another professional, Peters has started the High Hopes Foundation. A nonprofit that is in the process of founding a special needs daycare to support children of all abilities in the Sarpy area.
In the past 18 months, despite a pandemic, the duo, in collaboration with many supporters, were able to raise enough money to secure a space [for the daycare], hire a contractor and get architectural plans made with the hope to be open within the summer.
The daycare will be the first of its kind in Sarpy County and will include on-site therapy services and a full time nurse on staff.
"I'm extremely proud to be part of developing the High Hopes Foundation and High Hopes Child Care Center. Having access to quality child care is important for all families, but especially those who have children with medical conditions that prohibit them from attending most daycares," Peters said. "I know first hand how necessary and needed an organization like High Hopes Child Care Center will be to parents in Sarpy county.".
Her personal and professional feats are a culmination of her mission to build others up.
"I don't ever want to be the kind of person that is complacent and just takes life as it comes, happy with whatever is given to me. I want to make things better for people," she said.
She often questions "What kind of person would I be?" if she had never moved to Bellevue, never had the experiences she did, never had the academic opportunities she did or even never had the summer job she did (working in a BPS special needs kindergarten classroom, by the way). But for now, we don't need to dwell on the "What If's" of the past but instead, explore the "What If's" of the future…
"What if we have an Alumni Awards Program?"
"What if we promote a preferred network of alumni businesses?"
"What if we host alumni family events?"
"What If's" can be heard if you walk past Peters' office on any given day.