Charlie & Betty Watt – June LAC Members of the Month
This month we feature the husband-wife team of Charlie and Betty Watt. Charlie and Betty get the most out of their LAC membership by regularly working out using a variety of machines and exercise regimes. Both credit making fitness a priority for helping them recover from surgery and keeping chronic health issues under control.
Be sure to congratulate Charlie and Betty on being such great examples for how to stay active and healthy for life the next time you pass one of them on the indoor walking track!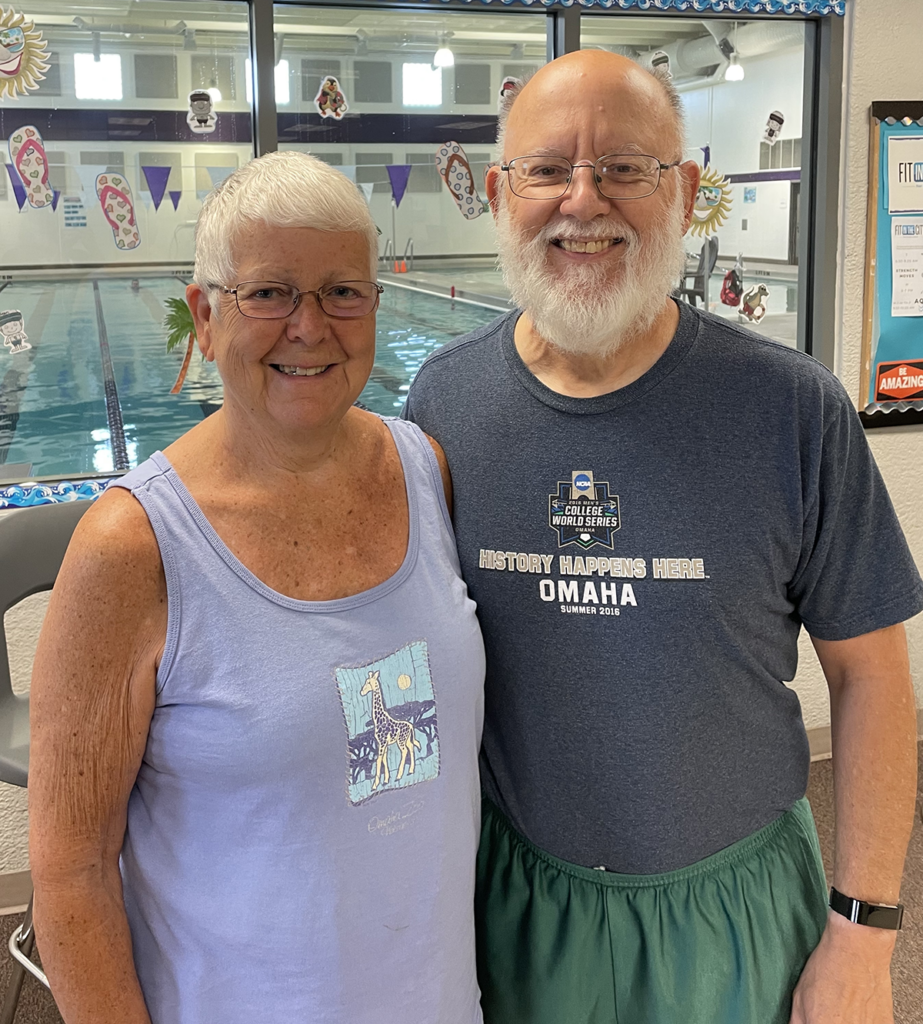 How long have you been a member of the LAC?
Charlie Watt: I have been a member of the LAC since 2017. Prior to that, I was a member of various fitness centers in the Omaha area.
Betty Watt: I have been a member of the Lied Activity Center for 10 1/2 years.
What is your exercise of choice?
Charlie Watt: I exercise six days a week. Monday, Wednesday and Friday I walk around the track for one hour (about three miles). For half the time I carry two 8-pound dumbbells. On Tuesday, Thursday and Saturday, I do 20 minutes on the elliptical and do 12 reps on each of the weight machines.
Betty Watt: I use the elliptical or bicycle for 15 to 20 minutes and then use the weight machines. Three days a week I do the machines that work the upper body and three days a week I concentrate on the lower body.
What is your current fitness goal?
Charlie Watt: I want to keep my weight in the 170-180 range and be able to be fit enough to hike and maintain or increase my strength. I have Type 2 diabetes and benefit from being fit.
Betty Watt: My fitness goal is to remain healthy so I can continue to spend time with our five grandchildren and be strong enough to continue to travel. We have visited 38 states and 65 countries. In September of 2021, we will be spending 21 days in Uganda, Kenya and Tanzania (if all goes as planned).
What has been your biggest fitness accomplishment?
Charlie Watt: My biggest accomplishment has been to keep up the six day a week workout schedule.
Betty Watt: My greatest fitness accomplishment has been my recovery from several major surgeries. I am a two-time cancer survivor, have had both knees replaced and had major shoulder repair. I firmly believe that had I not been someone who exercised regularly, I would not have recovered as well and as quickly from the surgeries or not have handled the chemo as well as I did.
How do you spend your time outside of the LAC?
Charlie Watt: My wife and I travel extensively both foreign countries and in the US. I garden, read, camp (when traveling in the U.S.), visit grandkids (and their parents). I also like to take and process photographs.
Betty Watt: We both love to read, travel as often as we can, and we go to the movies on a regular basis. We also spend a lot of time documenting our travels. After visiting a foreign country, I write a story about what we did each day and Charlie processes and organizes the photos of the trip. We then send these out to about 350 family members, friends and fellow travelers. I also make books using the Walgreens photo website.
How do you stay on track?
Charlie Watt: The key is making exercise a part of your regular everyday routine. I find that when I don't exercise regularly, I don't feel as well as when I do, so that "feeling better" helps me keep on track.
Betty Watt: I think it helps us to stay on track with our exercising because we do it together.
What is your favorite part of the LAC?
Charlie Watt: The staff is great and there is plenty of well-maintained equipment. The yearly cost for a resident senior is an amazing bargain.
Betty Watt: My favorite part about the LAC is the friendliness and helpfulness of the staff and socializing with the other members.