As a community activity center, the Lied Activity Center is honored to have numerous long-time members. We sat down with one of those loyal members, Julie Petr, to learn more about her and why she continues to choose the LAC to help her reach her fitness goals.

Julie will receive a $25 Target gift card for being the May Member of the Month and in appreciation of her continued support of the Lied Activity Center. Thank you, Julie, for being a fantastic member!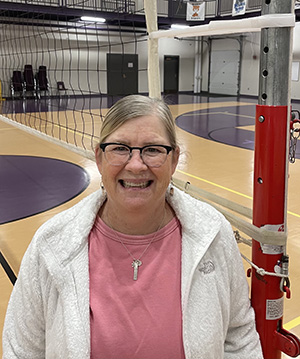 LAC: How long have you been a member of the LAC?
JULIE: I have been a member since it opened minus a few months. The worst days of the year are when the LAC is closed for holidays 😉LAC: What is your exercise of choice?
JULIE: I love the water so of course water aerobics is my favorite!
LAC: What is your current fitness goal?
JULIE: After some persuasion, I started to attend land classes. They have helped me in many ways so my current goal is to increase the amount of weight I use in those classes.
LAC: What has been your biggest fitness accomplishment?
JULIE: I have increased the amount of weight that I use in my land classes.
LAC: How do you spend your time outside of the LAC
JULIE: Gardening, traveling, sailing and most of all…hanging out with family and friends. Oh, and some days I have to work.
LAC: How do you stay on track?
JULIE: Coming to the LAC is not a choice, it is what I do. It helps that there is fellowship at the LAC and that I pay for classes. That really motivates me to get my money's worth.
LAC: What is your favorite part of the LAC?
JULIE: Front desk staff, fellowship, friendliness of everyone and camaraderie.