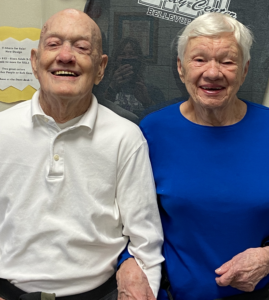 Congratulations to wife and husband duo John and Heidi Kelley for being named the November Members of the Month. 

As a way of staying mobile and living a long and healthy life, John and Heidi make working out at LAC a priority and have a lot of fun doing it. They've been going strong for 17 years!

Thank you, John and Heidi, for being a loyal supporters of BPS and the Lied Activity Center!

LAC: How long have you been a member of the LAC?
John & Heidi: 17 Years.

LAC: What is your exercise of choice?
John & Heidi: nu-step slide machine, pull weight "down" and pull weight "back", treadmill.

LAC: What is your current fitness goal?
John & Heidi: To remain mobile, to stay physically healthy, to live a long and happy life.

LAC: What has been your biggest fitness accomplishment?
John & Heidi: Maintaining some strength and mobility in old age. Feeling good about life and self. Staying active.

LAC: How do you spend your time outside of the LAC?
John & Heidi: Mostly quiet down time in retirement, socializing with other residents in the independent living facility where we live. Playing pool, cards with others, cooking and baking, reading, watching movies, which is always lots of fun.

LAC: How do you stay on track?
John & Heidi: In the environment in which we live there are many wheelchairs and walkers we use. We want to live our lives as long as we can without them. 

LAC: What is your favorite part of the LAC?
John & Heidi: Front desk, friendly greetings help get the day's workout started in an upbeat mood. Upstairs we like doing 4 or 5 machines (sometimes more) each morning Monday through friday. Socializing is always an integral part of our workout.
Want more LAC news and current events? Find the full LAC At a Glance Newsletter here!