Renee Ventrice wasted no time starting her young-adult life after graduating from Bellevue East High School in 1988. Literally. Within 24 hours of receiving her diploma, Ventrice was on her way to Arizona with nothing but her parent's blessing. A testament to the "I'm going to make things happen for myself" attitude that would be a theme throughout her life.
After a short time out west, Ventrice would follow in her father's footsteps and spend the next six years serving in the navy, something Ventrice says was always on her path. The self-proclaimed "terrible student" was burnt out on school and never desired a traditional college experience. She had actually enlisted before even graduating.
Though Ventrice never favored academia, she has fond memories of her time at Bellevue East, mainly surrounding her passion for cheerleading saying that cheer was a big part of her life. Ventrice earned the title of team captain and all-state cheerleader, in fact.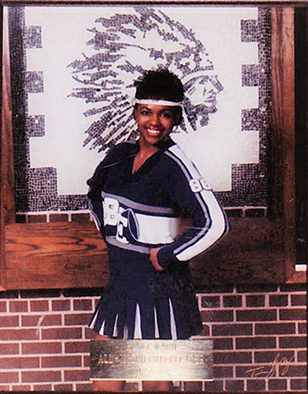 This adoration can be attributed to both the sport running in her family (her sisters were also cheerleaders at Bellevue East and formerly Bellevue High) and the influence of her cheer sponsor, Rosemary Lucky.
Ventrice was quick to mention Lucky when asked if she had a favorite teacher at East. "Lucky was the person who had the biggest impact on me… she drilled integrity into my head and really believed in the comradery and the sisterhood of cheerleading. I didn't always like her, but I always loved her." Ventrice jokingly states.
Lucky's mentorship would leave a lasting impression on Ventrice's life. "To this day, she is someone I really think about," Ventrice said.
The "small-town nature" of Bellevue characterizes Ventrice's happiest memories there; eating at Stella's, camping at the lake, going to Skateland to show-off her new pinstripe pants, more so than to actually rollerblade.
"It was like out of Grease," Ventrice claims when referencing how she and her friends would get in a packed car and "cruise 'The Strip'" on the weekends. A past-time better known as driving on Gavin Road, nowadays. But even Bellevue's small-town charm at its best, could not convince Ventrice to settle there.
After racking up some major life milestones: marrying her husband, leaving the military, the birth of her son, moving to Virginia, becoming VP of Marketing at a local company, and of course, adopting the family's beloved dog Beemer, the always ambitious Ventrice found herself wondering "what's next"?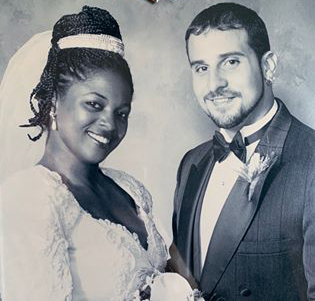 Ventrice found the answer in passion for wine, something her husband also really enjoyed. The couple cherished their vacations to vineyards in Napa. Even though her home in Loudoun County, Virginia holds more than 40 wineries, they had yet to find an experience that resembled the intimate touch they found in California.
In a spark of inspiration, Ventrice and her husband came up with the idea to start their own winery/brewery tour company on a Friday night. By Saturday, plans were being put in place. Within less than a month "Cork and Keg Tours" had came to fruition.
Cork and Keg Tours set out to provide an experience that integrates the consumer's personal preference into the tour, something that had not yet been done in the area. The Ventrice's wanted to foster an environment that encouraged an open discussion between them and their consumers, allowing attendees to have a more meaningful experience.
"We make it a memorable event," Ventrice says with pride. Understandably, they were met with nothing but success. In fact, Cork and Keg tours holds the #3 spot on USA Today's 10 Best Readers' Choice Poll, or "first in 49 states," as Ventrice likes to say.
With November of 2019 being its most successful month to date, Cork and Keg Tours was eager to start discussing plans for expansion in February 2020. However, the global pandemic stopped them in their tracks. Cork and Keg Tours was closed from March to July.
Ventrice was not discouraged and refused to let her business disappear from the public's eye. She looked to the now seemingly lifeless tour van in her driveway and thought to herself "I've got all this wine, I'm just going to start doing wine tastings". And thus, her virtual wine tastings were created.
Little did she know of the Pandora's Box she was opening. Ventrice's charismatic presence, impressive knowledge of wine, and the occasional karaoke song, started attracting thousands of viewers online. During some of the hardest months of 2020, Ventrice received multiple letters and emails from her enthralled viewers expressing how her Facebook Lives offered a bright spot for those who found themselves isolated by quarantine. Facebook for Business quickly caught on to the growing popularity of Ventrice's virtual happy hours and did a spotlight on the entrepreneur that has now amassed more than 18 million views!
Ventrice capitalized on the momentum surrounding her online persona by partnering with local restaurants for virtual wine pairings. "You can build a wall with a bunch of bricks or build stairs," says Ventrice, a saying she coined while sitting down for this profile. Her coined mantra reflects her personal mission to uplift those she is surrounded by utilizing her own strengths.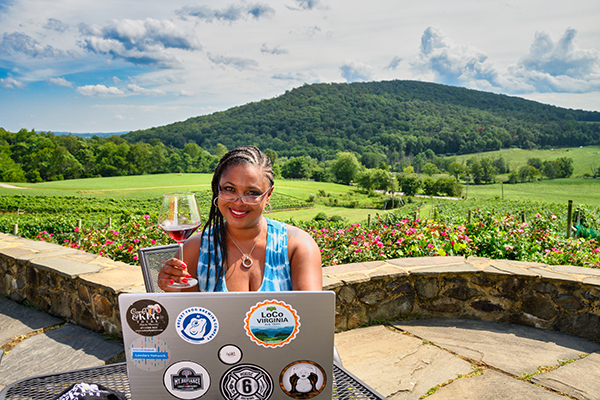 This sentiment rings true in her recently established brand, Go Be Grape, an homage to a past mentor who always encouraged her to "go be great". Go Be Grape encompasses her newfound social presence, as well as, offering personal social media consulting, which she provides purely on an optional donation basis. Half of all proceeds are donated to Veterans Moving Forward, a charity providing veterans with physical or mental health challenges a trained service dog. A cause close to Ventrice's heart.
Ventrice is proud to state that marketing and wine education are her future. Not that Ventrice will stop there. She claims to own around 20 domain names, has recently made her commercial voiceover debut, and thought up a killer new t-shirt slogan for Nike during our interview, so while marketing and wine may be her passion, they won't be her limit.
To learn more about Bellevue East alumni Renee Ventrice and her budding wine empire, visit https://www.corkandkegtours.com, @corkandkegtours on Instagram or @CAKTours on Facebook, or @go_be_grape on Instagram and @gobegrape on Facebook.