Bellevue has a growing affection for delicious donuts and hot coffee thanks to Bryce Bares, a Bellevue East High School graduate ('95), and his family. A ribbon cutting ceremony hosted by the Bellevue Chamber of Commerce on November 11, 2020 commemorated the opening of the couple's second Dunkin' Donuts location in Bellevue at the corner of 370 Hwy and 36th Street. The first Bellevue Dunkin' Donuts opened in 2019 at the corner of Harlan Drive and Galvin Road near Old Towne Bellevue.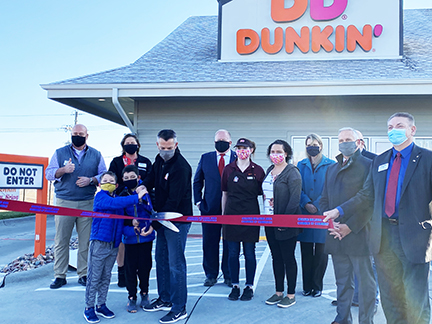 As steadfast supporters of Bellevue, the Bares family celebrated the opening of the second Dunkin' Donuts location in the community by making a generous $2000 donation to the Bellevue Public Schools Foundation. 
"I'm a Bellevue guy. The success I've had all started here in this community — I'm a proud Bellevue East grad," Bares said. "Bellevue has been really good to us and being able to open this second location is an honor."
"Whenever we open a new location, it's important to us to immediately give back to the community to not only show our appreciation, but continue building partnerships with great local organizations like the Bellevue Public Schools Foundation," Bares said.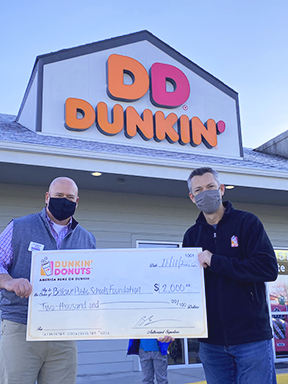 The Bellevue Public Schools Foundation uses corporate sponsorships, individual donations and revenue from the BPS Kids' Time before-and-after school childcare program to fund student scholarships, grants that support academic programs and other initiatives not otherwise possible that enrich the lives of BPS students and staff in meaningful ways.
To learn more about Bellevue East graduate Bryce Bares, check out his Alumni Spotlight.
Visit www.bps-foundation.org to learn more about Bellevue Public Schools Foundation programs or make a donation.