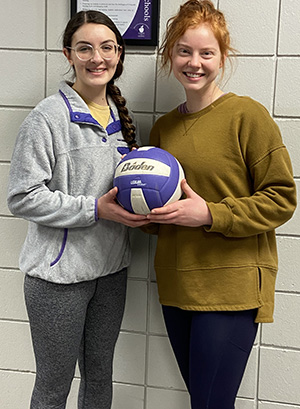 This dynamic duo stay in shape by training for a triathlon with fitness activities from running to weight lifting. As members for more than three years, each say having a workout buddy is what helps them stay on track the most.

Thank you, April and Julia, for being loyal supporters of BPS and the Lied Activity Center. (Pictured: April is on the left, Julia is on the right.)

LAC: How long have you been a member of the LAC?
April: 3 years
Julia: 3.5

LAC: What is your exercise of choice?
April: Lifting weights and running
Julia: I enjoy running and lifting. weights. After a good workout April and I reward ourselves with a game of volleyball.

LAC: What is your current fitness goal?
April: To stay active and healthy.
Julia: My fitness goals are to stay consistent and to continue to challenge myself during each workout session.

LAC: What has been your biggest fitness accomplishment?
April: Training for a triathlon.
Julia: Training for a triathlon.

LAC: How do you spend your time outside of the LAC?
April: I am a junior at UNO and I am studying to become a teacher. In my free time I love to play volleyball, bake and get coffee with friends.
Julia: Outside of the LAC, I'm usually working at The Makery – a local crafting studio in Omaha, or at the Metro Community College where I'm getting my associate's degree in graphic design.

LAC: How do you stay on track?
April: My friend Julia and I meet in the mornings to workout. She helps me stay on track and holds me accountable. She is the best.
Julia: Having a gym buddy like April is the main reason I'm able to stay on track. We push and motivate each other during our workouts.

LAC: What is your favorite part of the LAC?
April: I love the community here at the LAC. Everyone is so friendly and welcoming!
Julia: I've loved getting to know the other LAC members. Seeing and talking to them every week is one of the main reasons why I love working out at the LAC.
Want more LAC news and current events? Find the full LAC At a Glance Newsletter here!