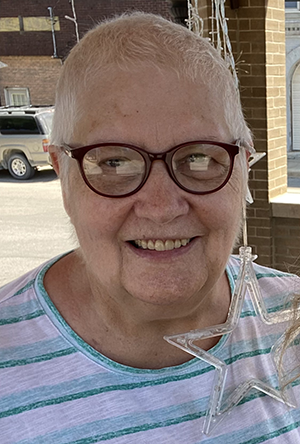 Congratulations to three-time cancer survivor and wellness advocate Lois Walker for being named the December Member of the Month.

As a way of staying mobile and living a long and vibrant life, Lois makes walking daily and eating a healthy diet the focus of her wellness routine. This sounds like a great strategy to us and we are proud of Lois for positive energy.

Thank you, Lois, for being a loyal supporter of BPS and the Lied Activity Center!

LAC: How long have you been a member of the LAC?
LOIS: I have been a member of the Lied Center for 11 years

LAC: What is your exercise of choice?
LOIS: My exercise of choice is walking and swimming.

LAC: What is your current fitness goal?
LOIS: My current fitness goal is to stay healthy, maintain body balance and muscle tone.

LAC: What has been your biggest fitness accomplishment?
LOIS: I lost 80 pounds in 2014. I did it by beginning to walk and a complete diet change. I have also conquered cancer three times in the past four years. My treatment was chemo and radiation three times.

LAC: How do you spend your time outside of the LAC?
LOIS: I make cards (greeting, birthday, holiday). I also like to travel to see the Iowa Freedom Rocks. I have seen 78 of the 99 rocks. My 2022 goal is to see the final 21.

LAC: How do you stay on track?
LOIS: I just get up and do it even if it is a 20-minute walk. I listen to my body- it knows when it is time to quit.

LAC: What is your favorite part of the LAC?
LOIS: The people- both members and staff. They are friendly- no one hollering at you to do one more squat, push up etc.
Want more LAC news and current events? Find the full LAC At a Glance Newsletter here!