Bellevue East graduate ('82), Steffi Swanson, defines "hometown pride." As the middle child of three girls, Swanson was not only born and raised in Bellevue, Neb., but this loving wife of 23 years, mother and now grandmother of two, continues to happily call Bellevue home noting that it's comfortable here. "I knew I always wanted to stay in Bellevue," Swanson said. "It's a good place to be."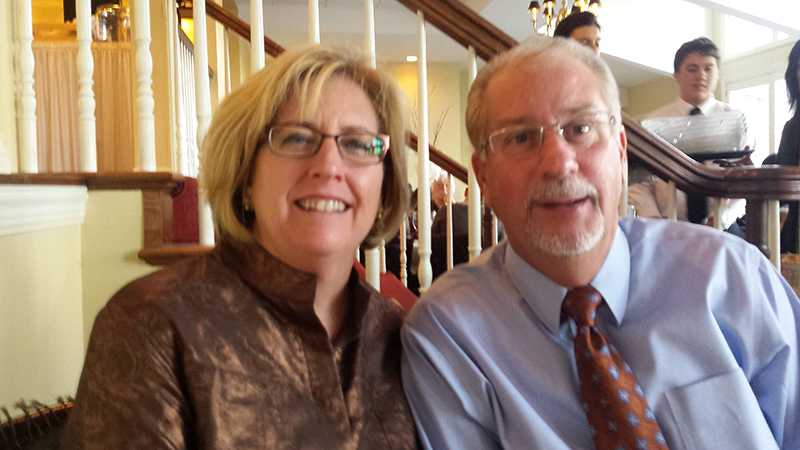 After completing her undergraduate degree at Kearney State (now the University of Nebraska Kearney) in 1985, Swanson attended law school at Creighton University School of Law. During her junior year, Swanson stumbled upon the opportunity to clerk for Robert J. Hovey, a Bellevue-based attorney in private practice specializing in family law and estate planning. Following graduation from law school, Swanson's clerkship transitioned into an associate position and Swanson began her career as an attorney.
"My clerkship with Mr. Hovey just fell into place," Swanson said. "He was a great mentor to me and still is. We're still in touch even though he's retired now. He taught me so much about the business, not just from the legal side, but handling clients, running a firm, just so much."
When Swanson began practicing law, she held the distinction of being the only female attorney working within Bellevue. She continues to have a successful career as an estate planning and real estate attorney in the community she was born and raised. When she's not advocating for clients, her pride in Bellevue resonates as a community volunteer championing causes that support women and children through nonprofits including the Bellevue Optimist Club, Bellevue Altrusa Club, as well as, The Bellevue Public Schools Foundation where she recently assumed the role of president in September 2020.
2019 Bellevue Public Schools Foundation Board President Denny Gilbert says that Swanson brings an enthusiasm to the role of board president that will help take the Foundation's mission to the next level.
"Steffi, like all our board members, brings passion and a unique set of skills that help drive the BPS Foundation mission to new heights," Gilbert said. "Steffi has been instrumental in jump-starting the BPS Foundation Alumni Association and the BPS 'alumni nation' is extremely fortunate to have Steffi as one of its own. As past president of the BPS Foundation, I know that Steffi's leadership abilities, pride in her community and strategic thinking will serve the Foundation well!"
Swanson says serving as a community leader and volunteer is how she shows her pride in where she grew up. "I think you should always want to give back to your community because you [should] have pride for where you grew up and honor the role your community has played in shaping your life and your sense of self," Swanson said.
These values and sense of pride started early. Although Swanson doesn't think of herself as an overachiever, this former Bellevedette captain, honor society member, varsity golfer and participant in high school musical theater admits to being overly involved in high school.
"I enjoyed high school. I was involved with extracurricular activities and think that being involved creates your memorable experiences that open doors for groups of friends to hang out with," Swanson said.
At the time, students started high school as a sophomore. Swanson recalls the Bellevedettes joining the marching band her junior year which meant learning how to march and be part of an award-winning marching band. These memorable experiences included performing in state band competitions, participating in the Bellevue classic Arrows to Aerospace parade and even traveling to Canada to march in the Red River Roundup event twice.
Swanson fondly recalls her trip to Canada. "It's June, there's a record heatwave and everyone's marching in wool uniforms. All down the parade route people are fainting," Swanson said. "It was an incredible bonding moment for all of us and something I'll never forget."
It's memories like these, and so many others from her diverse experiences in school that led Swanson to become involved with the BPS Foundation board.
"[These memories] make me happy. I appreciate the friendships that I built and I think everybody had fun. We got along, we did the work and we reaped the benefits of that. That's why I like being part of the BPS Foundation . . . I want to make sure there are funds and resources available to students so that they can have the same experiences. I would hate to see funding drop so much that the schools aren't able to offer drama, musicals, and those extracurricular activities that I think are so important growing up," Swanson said.
Swanson, who has served on the BPS Foundation board for six years, has watched the Foundation do more and more every year. During her tenure, the Foundation, which officially started in 1986, has added paid staff, implemented community partnerships to initiate new funding streams, and developed new programs to further benefit students and staff in meaningful ways.
"I think everyone on the Board should be really proud about what has been accomplished during the last six years," Swanson said. "I'm really pleased with how the BPSF Board has embraced alumni initiatives and helped expand that area. I'm also really happy with the different fundraisers that the Foundation has started in recent years as a way of celebrating the school district and to do something special that gives back to the school district and the community."
Swanson warns that as federal funding is cut, it gets harder and harder to accomplish everything that needs to be done so children can have a robust, innovative educational experience.
"You have to keep reminding people the importance of providing a quality education. Students need diverse experiences to be well-rounded individuals," Swanson said. "Through the Bellevue Public Schools Foundation, the possibilities to provide enriching opportunities are endless."
To learn more about Steffi Swanson, visit her professional website at http://www.steffiswansonlaw.com. More information about the programs and initiatives offered by the Bellevue Public Schools Foundation can be found here: www.bps-foundation.org.